"Who cares what others expect from you, the only thing that matters is what you want and expect from yourself. What matters is how you really feel. Those feelings are valid, legitimate, they just need to be reached, but in our society, they are often avoided. Our feelings are legitimate, they are our truth." Lana Barić said, the screenwriter and lead actress in the film Tereza37. The film, directed by Danilo Šerbedžija, is this year's Croatian Oscar candidate.
Lana Barić spoke for our portal about how she perceives women's struggle as her own responsibility, about women's loyalty as that which undermines the most sensitive aspect of patriarchy, about civic hypocrisy and the painful reminder of how our closest ones are sometimes most alien to us.
Tereza37, an award-winning film for which you wrote the screenplay and played the lead role, is the Croatian candidate for the Academy Award for Best International Feature Film. To what extent did this decision surprise you and how important is it for the entire crew? Also, are the recent awards for, among others, best actress (FEST, Belgrade) and best screenplay (Pula Film Festival), the best indicators that Tereza37 is truly an authentic film that conveys to the audience something of universal human turmoil, the feelings such as failure, disarray, and marginal existence?
Honestly, I have no idea. I guess, at least that's how it was in my case, when you start working on a project, you don't think about awards because you don't know what to expect. There are so many factors, there are so many things that can go wrong and things may simply not click, may not happen. The film was released in the midst of the pandemic, that's how it turned out, and my expectations weren't very high. At that point, the cinemas were not as busy as they used to be, we just came out of a lockdown. I was even more surprised by the success of the film and all those awards, even though the feedback from people, particularly women, was the most important thing to me. It was an indication that things did not go wrong and that this position of honesty, which was our starting point, reached people.
It will be tough to get to an Oscar nomination, but of course it means a lot to all of us. Especially because of the crew, the entire team of people who worked on this project was wonderful, I am so happy that it all worked out so great and that Tereza is one of those projects that you only have beautiful memories of. We were a really great team, a team of wonderful people and amazing professionals, and in this business that is, for me personally, the most important thing.
In several interviews you mentioned that you embedded actual experiences of Dalmatian women into the screenplay. You say you wanted to turn the supporting actress in our lives into the central protagonist of the film. What does that actually mean? Because it seems you have successfully presented history from below in the film – everyday life, silenced woman's story, invisible women, marital routine, economic and social life of ordinary citizens, seemingly ordinary hot summer in Split 3.
Growing up in Split – though I know that this is actually true for our region in general – I learned about things that have been swept under the rug for years and they concern the people around me. For reasons of shame and fear, or inability to take responsibility. It is so today, only that my circle of people has changed so sometimes it seems different, but I know that my circle is not highly representative. I myself have witnessed and still witness things, feelings, events that have been hidden and ignored and then they exploded years later, in a wrong time. When I say wrong time, I mean the delayed reaction that should have come much earlier. This story comes from that position and it is based on characters I know and focuses on one woman and her inner life.
Growing up in Dalmatia, I witnessed many relationships that have been going on for years, but in fact they never happened, people who live together, but do not see each other, do not feel each other – who keep missing each other. In fact, the saddest thing in the world for me are those mutual misses.
The central point of the film is the empty and unexciting married life of thirty-seven-year-old Tereza. But Tereza's world and life are much more complex and problematic because she can't have a child. The film opens with a very strong and touching scene: Tereza on a large bed, waking up in a pool of blood, with bloody panties and legs. She just had her fourth miscarriage. She gets up, scrubs the bed, takes a shower and carries on. No one knows what she just went through. Because she didn't tell anyone she was pregnant. Tereza is lonely in all her pains, temptations and fears. No one has to know what is happening to me, I will endure on my own and carry on – isn't this the greatest life struggle of all women, to which they have been condemned by a rigid patriarchal society? How do you, today after Tereza37, see the women's struggle?
I see it as my own responsibility, as I have always seen it. I don't know if it's my character or the position I'm in, which isn't bad and we can say it's relatively safe, I've never felt afraid to say what I think, feel and behave the way I think and feel. Many women do not have that privilege; to call it a privilege at all speaks volumes. This is largely due to the attitude of society towards women and the position of women in it, and these changes are necessary and that is why all the movements that have emerged are necessary. But it is not a good thing to transfer individual responsibility onto the movement/society, simply because you take away the power from yourself that I know we all have, the power to stand up for ourselves and others, the power of the individual that is great simply because people are precious. That is the position I am trying to act from. It is our responsibility to change our behavioural patterns, I mean in the private sphere, because all of it counts. And my responsibility as a public figure is to use that space for that voice because I have them both – voice and space.
I have become intolerant even of the slightest sexism, when I say slightest, I mean that what the 'slightest' sexists would call – a lapsus linguae – say, women are bad drivers. But it's not 'slightest sexism', it's prejudice and it's lack of decent upbringing, arrogance. We have that everywhere and constantly. We as a society need to completely re-educate ourselves, and we can do that starting from ourselves.
Feeling of societal pressure, feeling of inferiority, feeling of not fitting in – they all arise from the inability to become a mother. Being a wife, a 37 years old woman, and not being a mother, means betraying one's gender and social role in a patriarchal society. What I particularly focus on, and why Tereza37 is especially important to me, is the attitude of society towards women. We have this common opinion that women are already old after 30, that it is too late for many things, especially for first child or marriage. While writing the screenplay, how much did you think about such issues, but also freedom in general, the deconstruction of social norms, the liberation of women from the shackles of prejudice and stereotypes?
It is about the pressure of expectations, but it is often about roles that in Dalmatia are quite interior for a woman, and exterior for a man. The other day I was talking to my daughter and she started a sentence with – When I have a child… and I interrupted her and sad – If, If you have a child. I had the need to simply point out that option as well: women often do not get to the point of thinking whether they wish or not to have a child; it is often perceived as something in the 'sequence of events' or an 'expectation'. I believe that in the Balkans we are really lagging behind on this issue for at least twenty years. Here again I return to my previous answer, the individual responsibilities and agency of an individual – those possibilities are great.
Who cares what others expect from you, the only thing that matters is what you want and expect from yourself. What matters is how you really feel. Those feelings are valid, legitimate, they just need to be reached, but in our society, they are often avoided. Our feelings are legitimate, they are our truth.
In the film, we follow Tereza's uncertain departure from the marital rut into an adventure with new lovers and sexual partners. One of them is a caring and gentle Serb neighbour, the other a waiter she happened to meet… Are her sexual adventures in the film all the more significant because they threaten and undermine the most sensitive aspect of patriarchy – a faithful woman?
Of course. There is this duality that I witnessed and still witness in the younger generations as well, paradoxically, often more conservative than the parents', which is defeating and speaks to the fact that we seem to boldly be heading backwards. At the root of Oedipalism – in the Mediterranean, this is almost a trademark – is the love for the mother, on the one hand, and contempt for the mother, on the other. As these men mostly get stuck in adolescence and never overcome it, time does its own thing and they inevitably age, emancipation never happens and they are not able reach an equal footing with women as a replacement of some kind occurs where they actually replace their mother with their partner. Well, you can't fuck your mother so the partner/mother stays on that pedestal, in the interior, unfucked, while the husband acts in the exterior and extramaritally. In that context, 'whores' are great and desirable, but they are not for marriage – this sentence is in the film. I did not invent this; these are models I witnessed and still witness in the Mediterranean heteronormatives. This is certainly not the rule, by no means would I want to generalise. I return here to individual responsibility, trust me, it's crucial. You need to continuously revisit your own values. In Tereza, it is a kind of 'rebellion' if you will, because the way society divides people into whores and fuckers is still extremely strong, and it is rooted, among other things, in conservatism and Oedipalism.
Against this backdrop, we should mention that Tereza37 confronts us with a very shocking rape episode. The psychological portrait of the sexual offender has been successfully constructed in the film: an acquaintance, a smiling colleague, a friend from work who shares a compliment every now and then, invites for coffee, a sleek and clean little man whose mother picks out shoes for him. An important theme raised by this film is the question of the boundaries of women's freedom. Tereza is raped in the film because, in men's eyes, she asked for it, she got too free. What is happening today to women who are liberated (in any sense), who dare and rise above the standard boundaries of non-freedom?
In this world, the freedom of a married woman is in the hands of a man, he places her back into the framework to which she belongs. It's about punishment, putting someone in their place and about control. Women who openly say what they think, do what they want and are not ashamed of themselves or their being are very often punished, placed back into the imaginary framework to which they 'belong' most often by a man who knows them or is part of the family circle.
I did not invent many things, nor did I, when I started writing, think that I should let my imagination run wild. The whore will be punished by the fucker sooner or later. We are unbelievably hypocritical and cruel and the question is whether we will ever face this fact. Hypocritical citizens, that's what we are.
The experience of watching Tereza37 reminded me again of how little we know each other or are interested in others. This film is a painful reminder that sometimes our loved ones are actually strangers to us, and that we don't know their most difficult fractures, struggles, and fears. Is the questioning, thoughtful and conscientious, of loneliness and alienation in the modern age an important theme of this film?
I would say that is the main theme. As I have mentioned. I keep wondering if we were raised that way or do some things happen to us along the way? By that I mean both aspects – to fail to see the people around you and embrace them or to fail to see the people around you and push them away. I am currently experiencing something we could call a burnout and in such situations of being really tired things just crystallize.
When we work in theatre, there is no play without relationships, I always compare it to tennis; to play, someone has to hit back the ball. As a child, I very often played tennis against a wall, I hit the ball against the wall, but I knew at every moment that it was – a wall. Concrete wall. I used the laws of physics never ignoring the fact that it was just a wall. The wall is not alive, the wall has no consciousness. People have both awareness and responsibility.
In the year since its release, Tereza37 has certainly changed your life and career at least in part? What are your current professional plans and engagements? Is there something you work on with special pleasure and joy?
I always work with pleasure and joy if the material is good and if the people are good. I just had the premiere of Tena Štivičić's text '64' at HNK (Croatian National Theatre) where I'm employed and, in a few days, I will start shooting the feature film The Head of the Big Fish, directed by Arsen Oremović. I am writing a new screenplay, I have several projects planned for next year – I really have luck and peace in this respect, because good projects do not pass me by. I still love this job and I am happy to do it, I enjoy it as much as I did when I studied here in Sarajevo.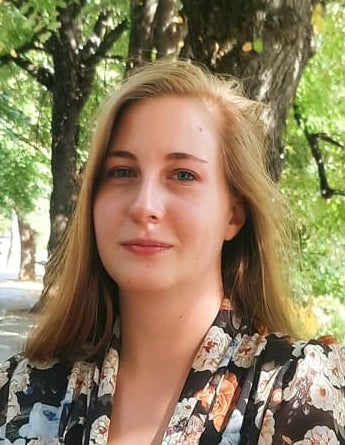 Nikolina Todorović (1995, Sarajevo) graduated literary comparison. She is a poet and literary critic awarded with the Mak Dizdar Award 2021 for the best first unpublished book of poems by the festival Slovo Gorčina in Stolac. Her poems have been translated into English, French, Russian and Gaelic.
She is currently involved in the Women's Reading Room project: Literary Criticism Factory project, organized by the Women's Board of the P.E.N. Centre in BiH, in which she writes literary criticism on works by regional and world authors. Nikolina is a researcher on the project History of Queer Life in BiH, organized and implemented by the Sarajevo Open Centre, and writes literary criticism, reviews, comments and analyses for several domestic and regional portals.