Marking March 8th, the International Women's Day, in an effort for it to remain a reminder of the struggle for women's economic, political and social equality
Women need no Women's Day 20% discount for a massage, a book or laser hair removal. Neither do they need a free public transport ride, which was once a real deal in Sarajevo on March 8th. Women need dignified and adequately paid work, and they need their rest time which they will spend whichever way they want, with or without discount. What's more, they need no special Women's Day entertainment programs at various catering facilities which are usually attended by their husbands once the company celebrations are over. Women need the freedom and time to organize entertainment programs for themselves and their friends as and when it suits them.
Our girlfriends from the Feministika portal have paired up with the Fashion.beauty.love magazine and conducted a survey about how much women work, how much they sleep and whether they take time to rest and how they do it. The survey was responded by 1004 women who work on average for 16 hours a day, considering both their professional engagement and their unpaid housework. Their maximum resting time is two hours a day. New mothers or women who take care of sick members of their family never rest at all.
I remember one of my colleagues telling me that the reason she went to manicures was because it was the only time that guaranteed her that she wouldn't be doing anything. Then there is the other, less pleasant but more frequent situation. We are here talking about sickness and the moment we realize that by some miracle, the world has not been put to a halt even though we have.

Everything is available provided we have the money. Weight loss and efficient fitness programs, pressotherapy, anticellulite and detox treatments, non-invasive aesthetic corrections. Everything is upgradeable, the eyelashes included. But there is no rest, even if our lives depended on it. For nobody has ever told us that we are entitled to it. The above-mentioned services that vaguely resemble rest are essentially not designed to meet women's needs but to make women fulfill the expectations that other people have of them. I sometimes think that eighty percent of women would walk around all hairy if somebody told them they are entitled to it. Men do it ever so often for their nonchalance equals charm.
I recently spoke to four different women about their lives, about their work and their rest. The first woman is a single mother and a journalist who gets up at four o'clock in the morning due to her work schedule. Most times, she goes to work after a sleepless night. She has a twenty-month-old son and since his birth, she has never spent a single day the way she fancied. She sometimes catches a break when she manages to "steal" an hour for herself to get a coffee between work and going home.
The second woman is an outstanding university student who simultaneously attends two different faculties. She has obtained her master's degree from one and is completing her bachelor's degree from the other. She chose a scientific field which is incompatible with the digital era we live in and so the work market is completely unsuited to her professional pursuits. To be able to finance her doctoral studies, she will have to choose a job that has absolutely nothing to do with her competences. Her idea of rest is to read books of her own choice after tedious exams.
The third was an outstanding student of Druga gimnazija in Sarajevo. She was studying economics when the war broke out. Circumstances wouldn't let her complete her studies. She is now 52 years old; she has cancer and various other illnesses. She is a round-the-clock carer to an elderly person. To be more precise, she is currently living with that person for which she is being paid 400 marks a month, the amount which the person's son is willing to pay for his mother's care. When I asked her why she did not try to find a different job, she told me she could not leave the woman, she had been caring for her for ten years and that relationship had long exceeded professional boundaries. She does not rest at all and has not gone out in the evening for ages because of the evening therapy she has to administer to the woman. She very rarely goes out for coffee with a friend.
The fourth woman works for a security agency, usually 12 hours a day. Unforeseen circumstances may make her workday even longer. Her idea of rest is to take off her uniform, have a shower and watch or read something that won't upset her.
Now pick any one of these four women and ask yourself if it would make any sense to give her a carnation for March 8th and how much patience should every one of them have in order not to throw it away right there in front of you.
Consumerism and patriarchy have degraded everything, March 8th included. They have degraded March 8th in particular. For what do I care for New Year's Eve and Valentine's Day! Let a thousand sparklers burn and let there be a thousand red hearts for all I care. We didn't have to give our lives for those two dates in the year. For women's equality we did. The International Women's Day is a reminder of the fight for economic, political and social equality which is still fought to this day and with which flowers, vouchers and company parties have nothing to do. Had I been given a mark each time I wrote that March 8th should be marked and not celebrated, I wouldn't be thinking about how to afford some rest.
The International Women's Day, apart from the fact that it should not be a consumerist platform and that it should not turn women into "ladies", is not Mother's Day either. Not all women are mothers and they have a right not to be. If you really care about mothers, or those who are about to become mothers, then you should care about them for the remaining 364 days of the year. Concern yourselves with their maternity allowance or funding the medically assisted fertilization.
Alongside the dignified work and rest, women also need adequate medical care. It is becoming quite annoying to watch all those experts who take up the slots of a TV program with their talk about the prevention of various diseases – I hereby refer to the diseases women are more at risk of getting – and to face the tedious procedure to schedule the basic diagnostic check-ups within the public health system. And then when it's too late, the woman is the only one to blame because she failed to chain herself to the medical institution until they agree to admit her, in case she doesn't have the money to get treatment in a private clinic.


"Condemned to unpaid housework and less profitable jobs, underpaid and yet available at all times, being project managers within their respective families, the women I know do not work only when they are asleep", wrote Olja Savičević Ivančević, adding that it was not true that women can do everything and that they manage everything. The truth is women think that they must do it all and the pressure becomes all the scarier. "The truth is that they also go beyond their limits because they are afraid of failure – that's where all the multitasking, procrastinations, recognition seeking, anxieties, panic attacks, Normabels, burnouts and related and, as perceived by social networks, almost trendy terms that make real life living hell come from", Olja writes, touching upon one of the key levels of the tower of problems that women have to deal with. The fear of failure in women has been so successfully planted that even the most fertile granaries could envy it. For that is how difficult the path of their valorization is. So painful and frequent are the re-examinations of women's merits. It is women who most frequently need to go beyond their limits to be made visible in the first place.
Not long ago, a woman I truly admire was given public recognition, and that from a man, because she achieved something resembling a somersault on a trapeze without a safety net underneath. To every close observer, her skills would not go down unnoticed. But there needs to be another pirouette and she needs to perform something almost impossible for it to be registered. And all that will not be sufficiently valued unless she scores equally well on at least three more fronts.

Six years ago, Zemunski mali umetnički centar (Eng. Zemun Small Art Center) issued a call for artists and other cultural workers to win a free holiday titled Freedom for Life. The only requirement was for applicants to state what they are tired form. Even though I knew that this was a serious organization, I first thought they were joking. Being a fan of good humor, I decided to sign up, so we can all have a laugh. So, I wrote about what I was tired from. It was a unique opportunity to face the scope and amount of my obligations which, let's be honest, are no match to my present obligations. And I won. A while later, they contacted me and told me I could pack up and go on my free vacation. But I didn't have time for it. They weren't happy when I informed them about it, but they weren't surprised either. I wasn't the only one.
One early morning in Manhattan, I was coordinating the pre-press of a newspaper I had previously edited in some other places in America. To avoid confusion, the newspaper was published in Bosnia and Herzegovina, of course. I was editing literary manuscripts in Las Vegas casinos where smoking was permitted. I was writing project proposals in most luxurious hotels as a guest journalist, looking at seas other people were swimming in. There is no means of transport or a roadside cafe in which I didn't pen a word. I went to television recordings straight from the funerals of my loved ones. If I were the only one, I would think it's a disorder. It is yet a greater issue that it is a common practice for women to embark on an impossible mission to prove their omnipotence. And so, whilst we are waiting for the system to do something, knowing that it won't, let's – swearing by March 8th – do something for ourselves and for one another. When you see a woman resting, approach her and give her a hand – this could be a slogan of a decision in a better world that does not resemble this one we live in. In this world of ours, it would read – help her with something so that she could really have some rest. And help yourself and let others help you so you could have a chance to rest. It is time we realized we are not a pre-war washing machine by a renowned Yugoslav manufacturer that has never broken down. There is no such project that could adequately compensate for the renunciation of a holiday and the accumulation of fatigue. In this scarce world, professional opportunities that should not be missed are very rare. However, the life opportunities won't pass us by even if we were sitting in a Turkish hammam. As it is often said in the vernacular, what's meant for us will find us, even if we take a little break.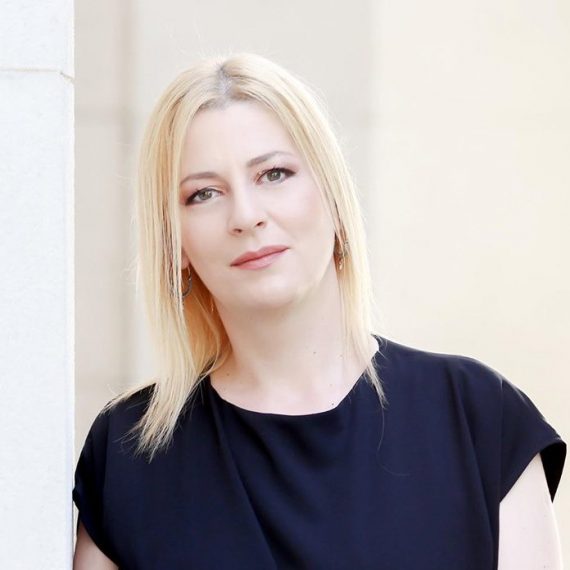 Kristina Ljevak (born 1980 in Sarajevo) is a journalist and editor who has been working for domestic and regional media for twenty years. She is dedicated to the affirmation of independent culture and art in Zvono Association. She has also been collaborating with numerous organizations whose work deals with human rights, the fight against discrimination and fostering a culture of remembrance. She is a feminist and LGBTIQ+ activist.