Last February saw the premiere of the play Rechnitz – the Exterminating Angel, based on the dramatic text by the Austrian Nobel Laureate Elfriede Jelinek and directed by Sabine Mitterecker. This performance is a co-production of the Sarajevo War Theater and the Croatian National Theater Mostar, which will be remembered as the first co-production of a Sarajevo-based theater and a theater from Mostar.
Jelena Kordić Kuret, an award-winning actress of the Croatian National Theater Mostar and cast member of The Exterminating Angel, spoke for our portal and touched upon the cultural and artistic significance of this play, the most important topics it discusses and the manner in which it communicates with our collective traumatic legacy, as well as on all the current events and on her role and work on this play.
Rechnitz – the Exterminating Angel is one of the plays representing a particularly important addition and accomplishment for our recent theater repertoires. It is a play that opens and puts numerous important ethical and humanist issues into perspective. It does so, among other things, by terminating the silence about the horrific crimes of the twentieth century. As an actress, you must surely find it most important as to how the audience, without which there can be no theater, will respond. Subsequently, as one of the cast members of The Exterminating Angel, you have probably been the most entitled to sense how the BH audience actually reacted to this play and the issues it tackles. To what extent does this play communicate with different generations, with different experiences of individuals, as well as with our collective traumatic legacy?
When talking about our region, the peculiarity of this play lies, first and foremost, in its aesthetics. We have already had the chance to work on and to see plays that dealt with the confrontation with the past on a number of occasions, but this is the first time for us to discuss this issue in the language of Elfriede Jelinek, an author whose style of narration, humor, rhythm and music of words reflect the spirit of a different space, mentality and time, which, again, strongly resonates with what we have been going through in the last thirty years.
The director Sabine Mitterecker, an Austrian herself, starting out from her vision of what theater represents today, created a performance that not only speaks about the crime that occurred at the end of the Second World War, but also about all the crimes and all the cover-ups of crimes occurring at any time and in any place and hence those that occurred here and now.
If we start out from the fact that aesthetics is criticism of taste, this performance will not be to everyone's taste. It does not leave as much space to emotion, as much as it requires from the audience to observe what happens on the stage with a cool head, with intellect and then pass their own judgment on that of which we as actors speak.
This play is still relatively fresh and it is hard for me to make a general assessment on how the audience accepted it. Of course, at the end of the day, it is important for us that it should be seen. However, it is even more important that we, the theater workers, should remain persistent and talk about the things that affect us as a society and to contribute to positive changes in our environment.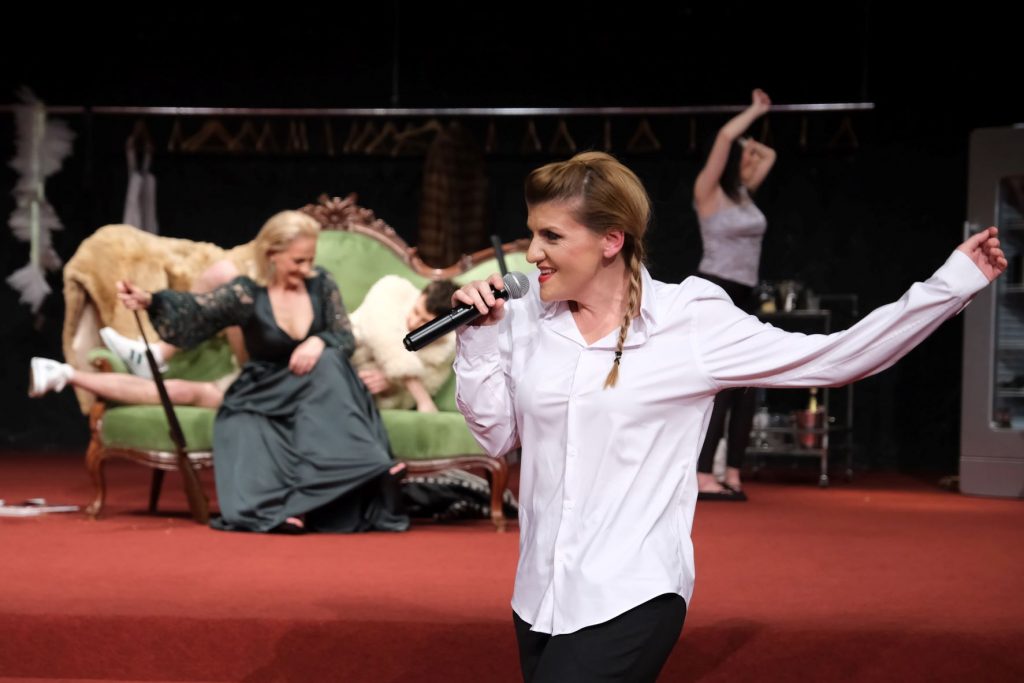 The peculiarity of this play, among other things, lies in the fact that it involves the audience, transposing it to the most vulnerable spot – the ethical confrontation with the past, the attitude towards the victims, and ultimately, the responsibility for the future. To that end, to what extent was it challenging, exhausting but also important for you as an actress to dedicate your efforts and deliver the topics such as confronting the past, degradation of victims, betrayal, escape, responsibility? The actors and actresses in this play are "in the shoes" of the persecutors, not of the persecuted. The audience likewise – we are guests at that blood feast. What can that somewhat unusual and intimidating perspective bring and reveal to the audience?
The perspective is constantly changing here. One moment we indeed are the persecutors, but the next we become the persecuted, then the witnesses and then the actors themselves. The line is never clearly drawn, just like it isn't in real life. I believe that when you approach a certain story by observing it from every angle, only then you are able to create an objective image of the issue itself. That is the leading thought that we, the actors, have when uttering those brutal, monstrous thoughts. In spite of being unimaginable to a sound mind, they constantly resonate around us and we keep hearing them from people who look just like us. Those thoughts are fostered in the images of people we find pleasant, people who charm us, people with whom we live, have children and identify ourselves. Yes, it is frightening, but it is true. 
I therefore believe that it is important that we should observe things from different perspectives in order to be able to discern why someone behaves the way they do and to be able to respond to it.
There is a phrase that you as one of the messengers in the play use as a saying that could actually be key for the interpretation of the play as a whole. The phrase in question is the banality of evil. Just as the title of the play itself – the Angel of Destruction, this phrase is an oxymoron, but we know too well that as a notion, it is frequent, adequate and actually inevitable whenever there is an attempt to define genocides and crimes committed. In this play, the banality of evil is best shown and emphasized through the roles of the messengers. Messengers are those who are repeatedly relativizing, diminishing and manipulating with the number of victims; they impose a deceptive and unreliable memory and remembrance; they never define the crimes directly – instead, they will use various euphemisms and ambiguous images. Lines such as I am but a messenger; Messengers don't kill, they wait to be told; Because I was ordered are literally transcribed sentences from the most important textbook on the Second World War, the study titled On the Banality of Evil by Hannah Arendt. Under the pretext that we are only doing our job, that we must defend ourselves, that we are attacked, that our freedom, our country, our borders and our women are attacked, wars are constantly waged and innocent people killed all over the world. In your view, to what extent has the role of the messengers contributed to raising the awareness about the above-mentioned matrices, starting out from which all the crimes are being committed and covered up? What is the most concrete way to comprehend the role of the messengers? In other words, what are their equivalents in the world outside the theater?
A pupil walks down the street carrying a heavy satchel on his back. He walks past his neighbor, an elderly gentleman, always agreeable and kind. At this point, he is sympathizing with the boy because of the heavy satchel, so he says, "Son, what a heavy satchel you have there, you need two little negroes to help you carry it."  
In all likelihood, the man will never be aware of the atrocity of his own words. I suppose he only wanted to express how sorry he felt for the boy. But what did the boy think as he walked on? Did he repeat "the joke" at school, did he "infect" his schoolmates without knowing he was "infected" himself? By relativizing a snowball, we will end up buried under an avalanche. And those snowballs are our daily routine. Ignoring such "innocent" comments, we encourage our children to learn how to hate everything which is different. Who are the messengers? All of us who just wait and observe, who do not react because it is not us who have been called out. We let such comments pass under the radar because it's just an old man who wishes nobody any harm. Hate is not inborn. Hate is a taught skill and it is best instilled into ignorant people. Hate should be opposed with knowledge, sound judgment, personal experience and sense of one's own place within the society we live in. 
We should teach our children to abandon all the harmful matrices of thought and behavior. In fact, we should teach them to abandon all matrices as everything that is imposed and not a result of one's own understanding and experience can by no means be any good.
All the elements in this play entirely observe the dramatic rule that every move and every gesture have and should have their justification and meaning. Thus, for instance, there is a very meaningful, successful and shocking episode in which one of the messengers is eating canned sardines and saying how astonished he was by the fact that so many people could be packed into mass graves… On the other hand, what could not remain unnoticed when it comes to your part is the fact that yours is the only character who changes her attire several times. But then again, your costume is the stiffest and most formal. This constant changing into almost identical uniforms, the same uniformity, could that be a symbol of exclusiveness, strictness, repetitiveness?
The line I follow in the play is left with enough room and space to act independently and responsibly. She is aware of everything happening before her eyes but she nevertheless chooses to dress back into one and the same attire and thereby adjust to those who are in a position of power. What are her reasons for doing so? The fear of non-acceptance, lack of empathy, opportunism, there are so many factors in the game… We live in a traditional society that favors clear guidelines and it is therefore that we comply with the majority, i.e. the authority. The fear of an uncertain future is a fear we all have, but it is precisely that fear that sides with conformism. Let's not stir things up, all is well. Except that it isn't and we can all see it. However, as individuals we are afraid of being left alone and abandoned and we'd rather bow down than let things be stirred up by our actions.
Dig out and bury is one of the sentences that seem to be the leitmotif as it gets repeated several times. From a historical point of view, those are the processes that had been continuously repeated. Crimes were committed, then buried and silenced. Decades later, some brave individuals emerge and dare to dig out the crimes hidden underneath the surface and reveal them. By doing so, to what extent do they participate in art forms such as literature and theater? Are those two the places where the suppressed, restrained and silenced voices are dug out? The places where one speaks out on behalf and in honor of others who are mostly invisible, numb and marginalized?
I needn't look any further from this piece as it is the best example for that. The author herself stands up against the decades-long collective silence about the horrific crime that took place at the end of the Second World War. Now if that does not count as an artist's brave step forward, I don't know what does. The purpose of every art form should be raising the level of awareness, going to places that are painful, difficult to digest and difficult to face because we are thus facing our own being, and who knows what we are about to find there. But it is necessary because it is the only way we can face the truth without hiding behind our own ancestry, tradition, various matrices and all the things that narrow our views. Otherwise, dig out – bury will remain the mantra we will pass onto our children and grandchildren and that then becomes a vicious circle that can never be broken.  
The relevance of a certain play is usually analyzed in terms of how it communicates with the real events that take place at the moment in which the play is performed. Accordingly, the Exterminating Angel, with all the topics it discusses, did indeed appear at a peculiar moment in our country. For three years in a row, we have been living in utter uncertainty, we have seen so many dehumanized deaths, sealed metal coffins. Presently, awed and traumatized, we are witnessing the war in Ukraine, the casualties, mass burials… At times, when we have brought to mind all the chaos we are currently living in, it seems almost impossible to utter a single sensible word in face of all the atrocities. In spite of it all, the theater persists in speaking out. Do you think that that is where the theater's greatest contribution lies? In being responsible, relevant and engaged?
At the time we were staging a play that discussed a crime committed during the Second World War and through it the crimes that were committed in our recent past, little did we know what events would occur in Ukraine and that they would eventually result in a warfare. Our play gained an additional context thereby. What seemed to be brutal sarcasm at one moment was turned into unquestionable truth the next. And yes, you are right when you say that it is almost impossible to find a sensible word when talking about atrocities of war. But the war itself is a senseless phenomenon with a goal to conquer, divide, kill, destroy… And that is what we must stand up against. All of us who do not see any sense in it, we must raise our voices. Art is the noblest resource in the fight against nonsense. The theater as such is indeed important and it must be both responsible and engaged. 
What I consider to be noteworthy here is the fact that The Angel of Destruction was staged as a co-production of the Sarajevo War Theater and the Croatian National Theater Mostar. That is, in fact, the first co-production of a Sarajevo-based theater and a theater from Mostar. Would you agree that this is very important to point out? Subsequently, to wrap up, to what extent is this production an important cultural and theatrical project?
It is very important. By uniting theaters, we broaden our own horizons, eradicate borders and open up to other people. That is the message that we should convey to our audience. I also believe that what is worth mentioning is the fact that culture is currently in an unenviable position. Whilst vast resources are being allocated to other branches, we are scraping to get by. Nowadays it is very difficult for a theater company to launch a successful project on its own with the funding it receives. If it succeeds, it is definitely praiseworthy. Unfortunately, this is something that only theater workers are aware of.  By joining forces, we increase our resources and stand a better chance to create something sensible and worthwhile which will resonate in the public. I find this to be a powerful message for all of us.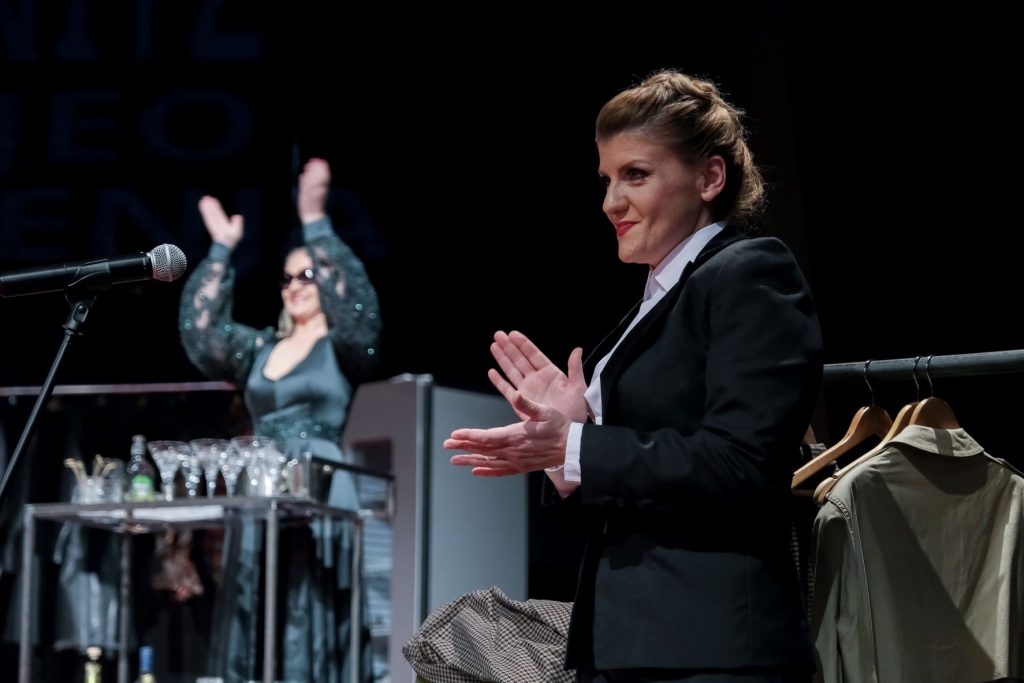 You are on a permanent contract with the Croatian National Theater Mostar; not long ago, you appeared in Quo Vadis, Aida?; you are a cast member in a number of active theater productions. Due to the very complicated and unenviable economic and social circumstances we find ourselves in, for which the cultural workers seem to be paying the highest price, do you remain proud of your profession, your vocation and work?
Acting is a noble profession. As indeed any other profession could and should be. For as long as I can see and sense that, by acting, I am contributing to the progress of my community, I shall carry on with it. That is the only thing that makes sense to me.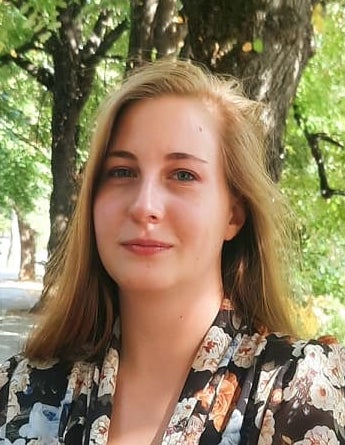 Nikolina Todorović (1995, Sarajevo) graduated literary comparison. She is a poet and literary critic awarded with the Mak Dizdar Award 2021 for the best first unpublished book of poems by the festival Slovo Gorčina in Stolac. Her poems have been translated into English, French, Russian and Gaelic. She is currently involved in the Women's Reading Room project: Literary Criticism Factory project, organized by the Women's Board of the P.E.N. Centre in BiH, in which she writes literary criticism on works by regional and world authors. Nikolina is a researcher on the project History of Queer Life in BiH, organized and implemented by the Sarajevo Open Centre, and writes literary criticism, reviews, comments and analyses for several domestic and regional portals.