Stela Mišković is a dramaturg from Montenegro. She is currently working on the play The Presidents by Werner Schwab, directed by Radmila Vojvodić and produced by the Zetski dom Royal Theater. In this interview she gave for our portal she discussed survival as theater's greatest challenge as well as the theater as an inseparable part of her being. "Theater is a field of endless tolerance, width and supranationalism", says Stela Mišković.
The vocation and profession of dramaturgs is particularly interesting as it implies a specific relationship with a literary text as well as with the theater and its audience. Responsibility is one of the basic categories of this job followed by a very good knowledge of dramatic rules and principles, innovation and creativity. What particularly amazes me about a dramaturg's job is their great skill of interpretation of a text, which is most frequently a literary narrative. It seems to me that there is hardly anyone who could read and dissect the structure of a literary text, especially the great prose texts such as novels, better than dramaturgs. Would you agree with the statement, bearing in mind your extensive experience in dramatizing literary works, that dramaturgs are – among other things – good, thorough and responsible readers, which is a rare and precious skill?
Taking into account the broad definition of the profession, a dramaturg's work is mostly based on reading, going through and immersing themselves into literary works. Everything we do, the success of a project, the entire semantic path of a process depends on how well we have read a given text. In this respect, the side effect of our job is thorough and responsible reading, so it is not really a virtue; it is a necessity or, in other words, a precondition. It is what a dramaturg essentially is – primarily a reader and interpreter of literary works, but then also a reader and interpreter of all other forms of art, of social phenomena and literally everything else. I am firmly convinced that everything in this world has its own particular dramaturgy.
You are primarily engaged on the dramatization of texts for theater performances. To me, this suggests that, alongside books and literary texts, you find theater to be a familiar and important cultural and social phenomenon. The importance of theater for a society and its culture is indeed undeniable and very complex. The strength of the theater lies in the fact that it relies on the collective, i.e. on the community and hence its ability to affect the awareness of the society, to immediately sensitize and inform the audience about the major contemporary, everyday issues. How is it then possible that the importance of the theater has not been acknowledged by official institutions involved with matters of culture, education as well as the preservation of identity and cultural heritage? Besides, in your own opinion, what are the biggest challenges the theater and all those whose profession presently revolves around it, have to face?
Survival is theater's greatest challenge. In order that the phrase the strength of theater could make any sense, it is essential that the theater, besides quality, should also have a certain quantity. By quantity, I do not wish to imply the number of productions, but first and foremost the number of theater lovers and theater goers. To us who are close to the theater it may seem that it is alive; we see a full house, at least at first showings and our hearts are full, but the truth is different. The theater and the theater culture are currently on their last legs. Theater audience has always been distinct, it is no different nowadays, in these modern times. For instance, when you go and see a performance, don't you know exactly who you will see there? If you are a regular, you will know them by their names and surnames. But the new, fresh audience is nowhere to be seen. Children nowadays have some other things to do. Digitalization did its part, whilst the parents' indifference towards their children's interests was the last, most fatal blow.
I similarly interpret the fact that the theater is always ignored and neglected by official cultural institutions because they happen to be run by individuals. The ability to understand the society's needs and the importance of the art of theater for a community depends on the upbringing, education and interests of those individuals, as well as on the level of obedience to certain political parties to which they belong. Hence their indifference should not come as a surprise. We, the theater workers, are the last people standing on the frontline to preserve the theater but I am not convinced we are doing enough.
Now that I come to think of it, maybe we should take the theater back to the streets, as it was in its original form, extract it from that institutional comfort and start educating the audience from scratch. We should not wait for the audience to come to the theater, we should take the theater to the audience. This may seem absurd at this point, but I am afraid that is what is ahead of us. A struggle for each and every viewer. We are to restart the cycle as the whole region is beginning to resemble the darkest Middle Ages anyway.
Since you are a dramaturg and you have an understanding of theater from within, do you see our regional theaters, theater festivals and meetings, as places where any significant social rebellions take place, where the truth is being promoted but also as those rare places offering an alternative reflection and critical questioning of the world? To that end, what regional production has lately made you self-reflect, critically analyze and provoked your strong emotional response?
I believe that once we have left our classrooms, theater is the only place offering an unambiguous, open and continuous critical inquiry into the world. Unfortunately, this question comes at the time of the coronavirus, when all of us are deprived of one thing or another. There are very few guest performances, the likelihood of going to a theater festival is as good as none, so I am not really spoilt for choice. I was fortunate to have been able to go to the MESS Festival this year, my favorite regional festival and it was there, at the Chamber Theater 55, that I saw Darko Cvijetić's Schindler's Lift, directed by Kokan Mladenović. It made a strong impact on me. I remember traveling from Sarajevo to Cetinje the following day and crying all the way. I think my overall impression of the play was backed up by our (Montenegrin) recent social and political situation which remarkably resembles the situation in Bosnia in 1992.
The majority of us who follow the Bosnian theater scene often wonder – What's the deal with the war-related topics? However, I had some sort of epiphany that evening at the Chamber Theater. I realized that we (the people from the Balkans) can never leave that vicious cycle of mutual hatred and that those hate crimes must be shouted about, now louder than ever. Maybe someone will hear. Theater is a field of endless tolerance, width and supranationalism and is just the right place for such a scream.
On the same day I found out that the first war victim in Mostar was Mira Golub. How ironic! That is when tears started rolling uncontrollably. I remember writing the following status on my Facebook profile: The war in Bosnia killed the Peace Dove. We killed the Peace Dove. Each and every one of us. Can there ever be enough tears for us to cry? 
Apart from this production, I must also mention the production of Anna Karenina, directed by Mirko Radonjić and dramatized by Ilija Đurović (a coproduction of the Prazan Prostor Drama Studio and the Zetski dom Royal Theater), which represents an absolute deconstruction of Tolstoy's novel, whereby every segment of the novel is taken into account. This contemporary sublimate of Tolstoy's life and work is a production I hope you will soon have an opportunity to see in Sarajevo.
You live in Cetinje where you also work for the most part. As of late, you have particularly been involved with the Zetski dom Royal Theater. I cannot help but ask, how content are you with the relationship between the theater and the Montenegrin audience?
Bearing in mind that we are a small country and that it suffices that a play be performed five times for the whole of Montenegro to see it, I am pretty content (laughs). I may have exaggerated this a little, but you see the point.
Besides, what I said earlier applies to Montenegro as well. People should get used to the theater from an early age. I believe that the biggest problem lies in the fact that there is a huge gap between children's plays and plays for grown-ups. Nobody is concerned with those coming-of-age pieces, i.e. pieces intended for adolescents and I believe that is what seems to be the key to audience profiling. Adolescents should be our target group if we are to preserve the chain of theater education.
And one more thing – the extent to which the audience is actually interested in the theater and how it could really survive is shown by the fact that during special offers and discounts, there is hardly a ticket available. This statement may seem contradictory to what I said at the beginning, but when you think of it, it really isn't. We are here talking about a cultural policy which needs to be defined, implemented and to which we should remain consistent.
For the past two years, solitude has become one of the fundamental determinants of our lives; it is a notion we have come to understand and interpret in a completely different light. How did you experience and endure this pandemic lockdown and solitude? Besides, how did it affect your professional engagement?
I am generally a person who is either at home or at the theater and so my personal life has not changed much during the isolation period which h, in a way, is not over yet. On the other hand, business-wise, I lost a lot. Especially during the first year of the coronavirus. And not just that, this realization of prevalence of struggling for one's dear life over the need for art was pretty frightening and sobering. When the Maslow hierarchy of human needs punches you in the stomach with all its might, when the list of your priorities is changed and your criteria are lowered because of something you'd always found banal, i.e. because of money, then one cannot but wonder and start reassessing oneself on all levels. But fortunately, that period is now behind me. Now, with a full stomach, I can contemplate art again.
One of the topics that, to me, seem unavoidable whenever I get the opportunity to talk with successful, unconventional and self-conscious women is that of the experience and perspective from which these women create, the atmosphere surrounding them and the burden they carry. You are a successful dramaturg who, as you yourself have once stated, does not regard herself as conventional by any means. Do you, either personally or professionally, ever reflect on the position of women in our society, on women's everyday struggles in our regional, patriarchal societies, on women's unjust marginal position from which they are gradually breaking away? Finally, we have to ask, to what extent is modern theater qualified to discuss such issues as marginalized groups and individuals?
As regards modern theater, it is qualified to discuss all the issues which are of any interest to man. Whether it is the current, socially engaged issues or tradition in the sense of deconstructing its myths, but also in the sense of preservation of cultural heritage (at least on an informative note). I always reflect on the position of women in society. Not only do I reflect on it, I address the issue through the plays I work on. The choreodrama by Tamara Vujošević Mandić, U amanet, which is based on my text, actually discusses an archetypal relationship, namely that between a mother and a daughter, a relationship from which everything evolves. Every time I think we have made a step forward in our emancipation, something proves me wrong. What grieves me the most is when it's a woman herself that proves me wrong. The term feminism is nowadays interpreted as an attempt of discrimination of men, dominance of women and marginalization of potential violence against men. Women proudly proclaim that they are not feminists. Making such a statement nowadays, regardless of your sex, implies a lack of elementary knowledge because, my comrades, we are all feminists – and so are you, whether you know it or not and whether you like it or not. Hence it is the theater's obligation to tackle these and all other marginalized groups in order that the masses might have some idea about the notions and phenomena which they are frightened of and which they don't understand.
I suppose you are currently engaged on one project or another or that you are working on a new dramatization. I believe that working on something that fulfills us is one of the greatest pleasures in this life. Do professional engagements and projects give you pleasure and meaning to your life? Other than those, what else makes you happy?
We are currently working on Werner Schwab's piece The Presidents, directed by Radmila Vojvodić and produced by the Zetski dom Royal Theater. It is a story about attempting to fill a vast void in one's being by building and constructing an artificial identity and by a constant rivalry in which one person must necessarily be worse than the other. Meanwhile, reality is ruthlessly banging on the door.
I consider myself one of the luckiest people alive as I am one of the rare people who love what they do and who live in a town they adore. The magic of the theatrical process, the theater itself, the live word uttered on its stage, these are all things I experience in the same manner. The theater is an inseparable part of my being. It's where I belong. It's what I live. It's who I am.
Other than that, what makes me happy is the love people have for one another and the courage to bear oneself and be true at all times.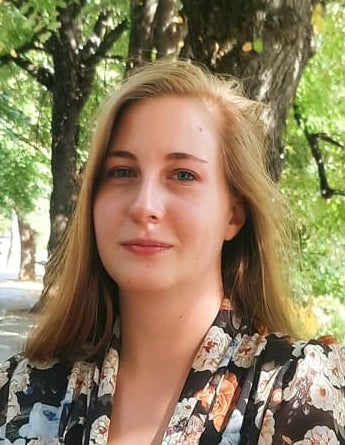 Nikolina Todorović (1995, Sarajevo) graduated literary comparison. She is a poet and literary critic awarded with the Mak Dizdar Award 2021 for the best first unpublished book of poems by the festival Slovo Gorčina in Stolac. Her poems have been translated into English, French, Russian and Gaelic. She is currently involved in the Women's Reading Room project: Literary Criticism Factory project, organized by the Women's Board of the P.E.N. Centre in BiH, in which she writes literary criticism on works by regional and world authors. Nikolina is a researcher on the project History of Queer Life in BiH, organized and implemented by the Sarajevo Open Centre, and writes literary criticism, reviews, comments and analyses for several domestic and regional portals.