During the Polip International Literature Festival which took place in Prishtina in May this year, a debate took place entitled 'Who is Telling Stories and Who is Sharing Stories?' During the discussion, the Kosovan poet Mirishahe Syla made reference to Caroline Criado-Perez's book Invisible Women which argues that male remains the default in many areas of life – and women's needs are secondary. Syla argued this often applied to the field of literature too, that male remains the default.
You could extend this to theatre too. While the Kosovan theatre scene has developed over recent years, women's voices and stories remain under-represented on Kosovan stages. Playwright Doruntina Basha, whose works include The Finger and Stiffler, the latter of which premiered at Prishtina's Teatri Oda in February, puts this down to the fact that the system is inherently patriarchal. "Theatre, as [an] institution, not [a] form, (is] still explicitly centralized and controlled by the main cultural body of the government. And by control I don't mean censorship. Control merely means implementing, by protocol, by law and internal regulatory bodies, hierarchical systems of decision-making that are purely patriarchal."
"History," she says, "has shown that such structures and systems are oppressive not only to women but to all others who don't qualify to defaults set by men who make the rules as part of a larger project of running the state. Unfortunately, sadly, it all comes down to this." Her most recent play Stiffler is a bleakly absurdist account of a sex worker's attempts to seek aid after being wounded by a client – she is left with a knife sticking out of her back. At every turn she is rebuffed, ignored, interrogated and blamed for her situation, until, with grim inevitability, she succumbs to her wounds. But even in death she is dismissed and dehumanised by the system.
Another factor cited by Basha for the under-representation of women is that there is very little independent theatre production in Kosovo. There are exceptions – the independent company Qendra Multimedia regularly produces new work and tours internationally – but it is not a level playing field. This situation is discouraging to new writers, she explains. "The only active, non state-funded theatre existing in Kosovo – while exciting, brave and dynamic – is tremendously singular. Therefore it cannot be taken as a reference for a community as a whole."
In recent years there has been a wave of new work by female film-makers, most notably Blerta Basholli's film Hive (Zgjoi) which was Kosovo's shortlisted entrant for this year's Oscars, but also Vera Dreams of the Sea, directed by Kaltrina Krasniqi and written by Basha. "This change did not come overnight," says Basha. "It was made possible by deep institutional reform that our Film Centre – unlike, say, the National Theater – has experienced in the past decade."
In the film industry, it took change at systemic level to create new opportunities. Established after the war, the Film Centre had operated annually as it does now: with state subsidies following open calls for projects by filmmakers. "However, the women filmmakers that have made the films that are now being globally recognized as the Kosovo New Wave, [were] able to make these films [only] once the institution introduced an independent procedure of selecting projects."
Though the Film Centre is under the same umbrella of the same state body as theatre in Kosovo, "unlike in theatre, there were people working there with political will, vision and strategy to open up the community as part of the plan to develop an industry. Once this happened, women came in with their stories and made their wonderful films."
There are various cultural initiatives that do champion women's voices. FemArt, founded by Zana Hoxha – who is also the founder of cultural NGO Artopolis – is one of them. It's a festival with a feminist agenda, to showcase and promote work by women artists, and it programmes a mix of theatre performances, dance and debate and combines art with activism. This year the festival took place between 14th and 23rd June, but while festivals like this can be valuable, they are time-limited and there's a danger of women's work being pushed to the sidelines.
Could Kosovo theatre see a similar cultural shift as cinema? Ulpiane Maloku and Agnesa Mehanolli are two young writers from Prishtina. Last year their work was presented as part of Out of the Woods, a podcast project produced last year by UK theatre company Tamasha in collaboration with Intent New Theatre in Kosovo, for which Maloku and Mehanolli's plays, Nude and Where is Mr President? were both made into short audio dramas.
This year they recently worked together on Ora e Vdek Jes, a new play about the experience of Kosovars who were imprisoned by the Yugoslavian government and of Albanians imprisoned under the regime of Enver Hoxha. The project took its inspiration from Jean Genet's 1947 play Deathwatch and saw the two young writers working with director Ilir Bokshi. Maloku and Mehanolli searched through interview transcripts with former inmates of Dubrava prison, the most infamous prison in the 90s in Kosovo, and read testimonies of the survivors of internment camps and prisons in Enver Hoxha's Albania. This material was used as the basis of the play, and the division between Kosovars and Albanians was one area it set out to explore. Mehanolli hopes the work will reflect the "unjust historical events that created such absurd divisions between our nation." While it does not shy away from depicting pain, suffering and injustice, Mehanolli also uses comedy in her writing, "because I believe that sometimes comedy has the power to tell the harshest truth in the saddest ways without us knowing."
According to Mehanolli, increasingly female playwrights in Kosovo "doing a great job and representing a very unique way of telling stories, with much more depth than we used to receive." The younger generation of storytellers, she says, tends to be "more forward and bolder in presenting or pointing out certain truths. And I think that this is very welcoming on our theatre stages. We just need to find more ways of being seen."
That seems to be crucial – the need to be seen. It's not that there is a dearth of women writers in Kosovo, but a lack of opportunities and platforms. As the success of recent film- makers shows, there is an appetite to see stories told by women – stories that challenge the default. As Basha explains: The stories we write speak most about who we are and what kind of a world we want. Some of these stories we gestate over years without knowing it, just by experiencing life as second-class citizens wherever we move in the world. And we always have to moveinvisibly since none of us wants to attract attention. Telling these stories is our lighthouse – but also our only way out of our life in the shadows."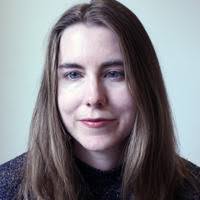 Natasha Tripney is a writer, editor and critic based in London. She was educated at King's College, London, and the University of Warwick. She is the reviews editor for The Stage, the newspaper of the UK theatre industry. In 2011, she co-founded Exeunt, an online theatre magazine, which she edited until 2016. She is now the editor of SEEstage.org, a platform for theatre criticism in South East Europe. She is also a freelance journalist and a contributor to the Guardian, the Independent, the BBC, Nachtkritik and Kosovo 2.0. She is writing a monograph about the history of the Polip festival.