I have recently been rummaging through my old notes written down in shabby notebooks. I sometimes make these short notes on random thoughts, these attempts to express feelings with words and so I came across a note that seemed fitting as a leading thought for this text.
Shoulder to shoulder,
And from the top of my lungs,
I scream
Craving salvation
This reminded me of Munch and his "Scream", that scream of pain and deep anxiety inhabiting us. It's like when you don't know where to start, when you have nothing or don't know how to move on. You are just there, born in the hilly Balkans where this narrative about roots and its importance resembles overgrown weeds. They smother you, drain your strength and allow no opportunity to develop your potential. They grow even quicker, feeding on their selfishness and poison we slowly take. The philosophical dilemma that arises is whether it is more important where we come from or where we are going. In other words, are we past-oriented or future-oriented? We, the new generations, the youth, are precisely there, in the mold or the chains of the past, convinced that "history" should just repeat itself. That's where the dilemma seizes to exist.
But no! Enough is enough! This misfortune that, regardless of all that nature has awarded us with in all its abundance, we should still be slaves to our suffering and also be proud of it, speaks volumes about our inabilities and our lack of concrete results and goals. That misfortune is our own doing. Then how come you are surprised by the idea of a human being, a man, that he should save himself from all of that and leave (the farther the better)? For even if somewhere else is no better, it would not be perceived in the same manner. The wound would not be as deep. The awareness of this, in fact, is the first step in the healing process. Then comes understanding and I am inclined to think that it is where we got stuck. But it takes a lot of courage and responsibility to admit it.
In Bosnia, we are not given an opportunity to choose between staying and leaving. In order to earn that, a lot needs to be done in the field of education and then the acquired competences should be applied to all segments of society and all institutions. Every one of our departures is an escape! To stay means to blend in with the inert crowd and become indifferent, as if everything that is happening around us does not concern us in the least. And why is that? Well, it's because of those weeds. We were growing up having the ability to see outside, at least virtually. There are things which are neither necessarily better nor worse, neither prettier nor uglier, but just different. We are able to see that the world is colored with various colors, not just black and white, there is a whole spectrum of colors in between. It should be normal and civilized to accept that every single person is looking for their own color and deciding on their own spectrum, metaphorically speaking.
But how does that relate to Bosnia? Well, "we don't buy it", as some would say. Anyone who has tried to suggest that life could be more structured, more responsible, more conscious and more comfortable, did not end up having a great time. We have all that is needed for it, but in a geopolitical sense – we are toast! As a society, we are still struggling to survive, fearing that things could always go from bad to worse. Because with every change there are also inevitable risks. Here, in the hilly Balkans, in the previous century alone, we had to face those risks not once, not twice, but five times! We had a war. It either meant a fight for survival or death. And from early age, we learnt that the latter was the only thing that's certain. As a child who was just about to start elementary school, my clearest memories are those of the Hague Tribunal and the broadcast hearings. How normal is that?
As we seem to be very fond of tradition, we are in the habit of commenting on other people without hearing their voice or at least having enough sympathy to listen to it. Whether we want to admit it or not, we are still bleeding from our old wounds. In spite of it being someone else's pain, the social trauma and the PTSD it caused is ours. We are so used to being restless, we are used to barely hanging on to dear life, to self-pity and self-mourning. Old habits die hard as they happen to provide us with a sense of safety and familiarity. We already have a strategy for them. But what results did it yield? – Painful results. It led to bitterness, lack of trust and disbelief. Young people are very well aware of it, they even understand and so we are one step away from the next phase – integration. But integration abroad.
Integrating and acknowledging the views of young people is essentially an economic problem. In this capitalist system, without financial freedom, every other freedom of choice is jeopardized. It is limited and conditional and therefore also susceptible to manipulation.
The scream should still resonate, but it is now gradually fading. The cries of the past are still hovering around our heads like some black crows.
Time will tell and we will bear witness to it all.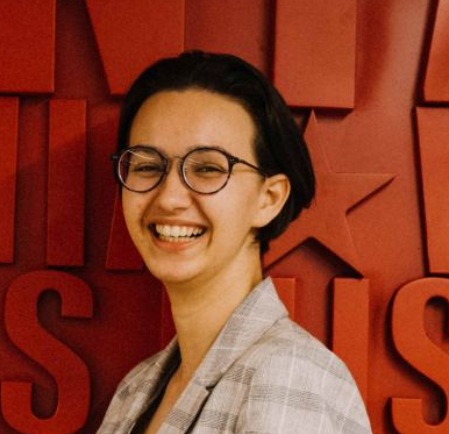 Jelena Mandić was born in 2001 in Banja Luka, where she completed her primary and secondary education. As a secondary school student, she obtained the "Interkultura" scholarship and spent a year in Italy. She plays chess and is a karate master first dan. She loves reading, especially psychology and philosophy. Moreover, she loves to study the ways in which people make decisions and how these decisions affect everything they may or may not be related to. She is currently studying economics at the Faculty of Economics in Belgrade. She is also involved in debating. Fluent in English and Italian, she actively studies German and Spanish. She started painting and drawing from a very early age. She says she writes poetry to feed her soul and clear her mind.