One of the most disturbing things when it comes to challenges that Bosnia and Herzegovina is facing is dissatisfaction of a young people and their interest in leaving this country. Something what we can see in Bosnia and Herzegovina and what should be emphasized is that the young people with decent jobs and solid opportunities for a future progress are leaving the country. They are leaving because of political situation which doesn't seem to lead to a better future for themselves and their children. Even though they have good jobs and stable economic base, they still strive moving to Germany which could bring them security and more predictable future.
My brother, Mladen Simikić (35) is one of those young people who put himself on such a journey. Year 2019. he went to Germany and started working in his profession as an electrician hoping to create a brighter future not just for himself but also for his wife Stana (33) which remained in Bosnia and Herzegovina. I am documenting my brother's journey through two countries and his influence on those he loves while following the story of depopulation and displacment of Bosnia and Herzegovina. What I am trying to find out is whether there is a way for those who remain to invest their knowledge and experience in this country which we call home.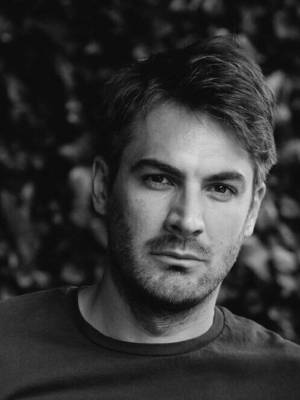 Mitar Simikić (1986) is a documentary photographer from Bijeljina, Bosnia and Herzegovina. He finds inspiration in the unknown and the feeling of possibility that is created within it and has an interest in photo stories in the form of series and long-term projects, a reality photography that examines social values. Simikić's photographs express emotions and perceive people, the environment and situations in a personal way. He works spontaneously and intuitively – adapting to changes in light, atmosphere and circumstances; animated by unplanned, temporary encounters with people and places in their state at that very moment. His goal is to create a space in which the audience can feel empathy for his subjects and get involved in their stories. A couple of seemingly contradictory motives are at the heart of his practice: a desire for order and simplicity and a fascination with the small details of the subject. Simikić is often entirely preoccupied with the stories he records. This obsession with detail is sometimes embedded in his photographs that reflect the complexity of his surroundings. In other cases, he distils the extremes of visual and sensory information into bare, graphically accurate images.
Mitar Simikić completed his undergraduate studies at the Academy of Arts in Bijeljina, Graphic Design Department (Bosnia and Herzegovina) and master studies at the Academy of Arts in Novi Sad, Photography Department. He has participated in several documentary photography workshops, including Civic Engagement Workshop, BOLD Academy (2020); VII Agency, Sarajevo Academy seminar for Narrative and Documentary Practice (2019–2020); Noor-Nikon Masterclass in Belgrade (2015); Focusing Democracy – Documentary Photography, Youth Centre CK13, Novi Sad (2013). He has won several awards, and his documentary stories have been shown at numerous exhibitions in this region.