Femicide is the murder of a woman just because she is a woman. In short. It is neither a crime of passion because there is no such thing, nor is something that ends in the death of a wife or partner after continuous violence a family tragedy. These offences are defined as domestic violence, and perpetrators therefore receive lenient sentences. A murder of a woman is a femicide, and not "a quarrel that ended fatally", as it is often euphemistically referred to in the media.
Later, we often hear the murderer being described as someone who never showed any violent tendencies, who was a kind and peaceful neighbour, etc. The reality is completely different and a femicide is never preceded by murderer's peaceful behaviour, nor does a murder happen overnight. It is the consequence of violence that no one reacted to, even when the victim was brave enough to speak out. The inertia of institutions is confirmed by experiences of hundreds of women who reported violence and eventually gave up, discouraged by the approach to their cases.
Capacities of safe houses are not sufficient to accommodate all women exposed to violence. Entire settlements should be provided for such access and prevention. Funding and survival are always questionable even for the existing safe houses. In addition, we must emphasise that victims are not in an equal position and that many lack access to elementary information when they need to ask for help.

Introducing the legal definition of femicide, introducing femicide as a criminal offence in all laws and regulations, urgent harmonisation of criminal codes with the Istanbul Convention (Council of Europe Convention on preventing and combating violence against women and domestic violence) and revising sentencing practices, ensuring prevention and protection from violence against women through competent institutions and multi-sector protocols, consistent application of law and, in cases involving fatal outcome as a result of domestic violence, that the perpetrators be tried according to the laws stipulating more stringent
punishment, are the demands of a spontaneous protest gathering in nineteen cities of Bosnia and Herzegovina following a femicide perpetrated last week in Bihać.
Our pain is your shame, you are not alone and it is not your fault, never another woman… these are some of the messages that could be heard throughout Bosnia and Herzegovina. Activist Melani Isović from Oštra nula also attended the protest gathering in Banja Luka.
"I am proud of all the women and men who came to the protest in Banja Luka and all other cities across the country. Women conquered the streets in 19 cities and that is not a small thing. We were there for all the murdered women, for women facing different types of violence every day. For women who were not allowed, or were afraid to attend the protest, to show them that they are not alone. It is important to note that femicide is not a family tragedy, but a brutal murder. One of the frightening facts concerning femicide is that the environment is aware of the violence, but fails to react. Patriarchy, harmful gender stereotypes and dominant discrimination, and unequal relationship between men and women are the main causes of femicide in our society, and of other forms of violence against women. It is the duty of us all to say no to any form of violence", Melani Isović says.
Along with legislative amendments, it is very important for the media to change the way they report on femicide. Presenting the murderers as dysfunctional persons, drug addicts, etc. is a way to deny gender-motivated murder. One of the worst forms of amnesty is to present femicide as perpetrators' inability "to accept the end of love." And then it seems as if femicide is not the result of the feeling of male supremacy over a woman, but of "the end of love on her part." The fact that someone could not accept the "end of love", rather than being a psychopath, creates unfounded empathy for the murderer in the public space. Along with the everlasting assumption in a patriarchal society that the woman "had it coming."

WE SHOW MATURITY WITH PROTESTS

Dalibor Tanić, editor-in-chief of the Newipe portal and a participant in the Sarajevo protest gathering believes that going out to the streets is not only an act of solidarity but primarily of our responsibility.

"First of all, it is very important to accurately name all the committed crimes, including the most recent one in Bihać. Femicide is a hate crime when a person's life is taken simply because she is a woman. This is exactly why, at least from my perspective, it was important to show up at protests throughout BiH and clearly say that femicide is not a family tragedy, passion murder or a consequence of patriarchy. Femicide is a hate crime and implies a clear intent to take a woman's life. This crime should only be treated as femicide, and it is our duty to demand that it be punished as such. This concerns all of us. This is not a problem of an individual woman, but of the whole society, and therefore we must be united in action, so that the individual woman does not become a victim again. We must raise awareness of, and accept that femicide exists around us and that there are individuals who consciously and with intent plan to commit it at some point. Also, I think that by protesting we are showing unity and maturity, because we want to protect our women citizens. I think it is a lot more than solidarity. It is responsibility. We are obligated, each within our societal role, to protect our women citizens", Tanić says.

Femicide is the leading cause of women's premature death worldwide. It mostly occurs within their home and confirms that there is no safe space for a woman.
Before protest gatherings in BiH cities, some politicians, such as SDP Saša Magazinović and DF Dennis Gratz, announced their personal engagement in cooperation with institutions and individuals, in order to bring about legislative changes.
Although the shift in the political discourse and the awareness of the need to respond are welcome, experience makes us cautious because we know that even the best intentions may be a challenge to implement in BiH practice. That is why the capital of last week's unity and responsibility should be utilised, and we must not allow the energy created around the protest gatherings to dissipate, as has happened to us many times.

GOING OUT TO THE STREET AS THE LAST OPPORTUNITY TO PRESERVE OWN DIGNITY

Sanela Kapetanović, editor at TVSA, believes that this moment is also the last chance for a reaction.
"Going out to the streets with demands for basic human rights is no longer a choice for those of us who have stayed in this country, but an absolute necessity and the last opportunity for preserving own dignity and life itself. Right under our noses, they stole the right to health and the right to public space, and everything in between, before and after it, and our silence and froglike ability to adapt assured them that they can dispose with those rights legitimately. When people begin to lose their lives over it, I think that it is the very last moment for a reaction. It would be insane to expect anything from those whom we
entrusted with a task, in one way or another, to provide us with dignity and freedom while being extremely well-paid for it. We have at least thirty years of arguments to decide that we must force them to do so.

Therefore, uprising against any kind of oppression it is not a choice but an imperative. Maybe it's a long process, maybe we end up not changing anything, but it's easier to live without being disgusted with yourself, too", Sanela Kapetanović concludes, having participated in the Sarajevo protest.

Regional circumstances offered us the worst scenarios involving femicide, violence and sexual violence against women, from abuse and murdering first children and then their mother, to the establishment of mitigating factors for a rape crime because the rapist was a war veteran, which occurred recently in Croatia.
The high level of social indifference to one of the biggest problems of contemporary society, willingness to relativise crime, to find ways to romanticise or "humanise" a decision on gender-motivated murder are causes of great concern. There are no "rules" for femicide. It can happen to any woman, anywhere, at any time. Regardless of the age limit, education level or her personal awareness of the need to respond to violence.
These reactions rarely reach the people whose duty it is to respond in a society that always needs to know what is happening behind someone else's closed door but when it sees violence, it pretends that nothing is going on.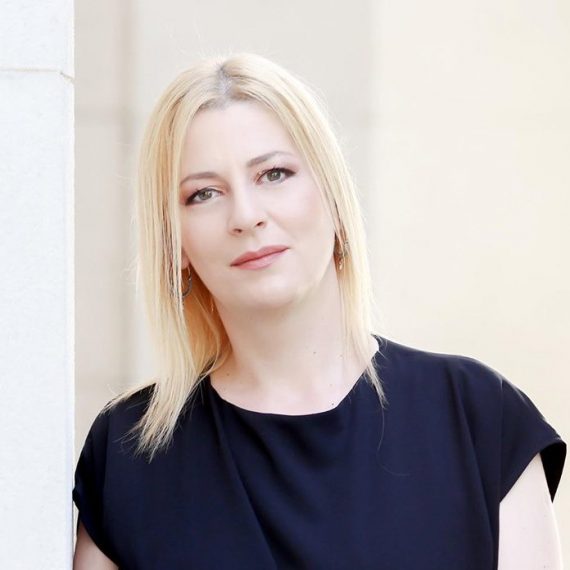 Kristina Ljevak (born 1980 in Sarajevo) is a journalist and editor who has been working for domestic and regional media for twenty years. She is dedicated to the affirmation of independent culture and art in Zvono Association. She has also been collaborating with numerous organizations whose work deals with human rights, the fight against discrimination and fostering a culture of remembrance. She is a feminist and LGBTIQ+ activist.